Right now, the waters around Denmark are three degrees warmer than the average temperature at this time of the year. This corresponds to a moderate marine heat wave. But just a few weeks ago, the difference was even higher in many places—up to eight degrees warmer than the average temperature—and the marine heat wave was categorized as extreme in those places.
This is shown by calculations made by researchers from DTU Aqua based on an analysis method developed in Australia, which has experienced many marine heat waves in recent years.
"I was at a climate change conference in Washington this summer, where I heard about the Australian method. And when I got off the airplane in Copenhagen, it was simply extremely hot, so it was obvious to make the calculations based on Danish data", says Senior Researcher Mark Payne, DTU Aqua.
Severe and extreme marine heat waves in the summer
The analyses showed that especially from early May until the end of June—and again in the weeks around 1 August—there were pronounced marine heat waves almost everywhere in the Danish waters. In several places, these were strong heat waves and a few places could even be categorized as 'severe' or 'extreme'.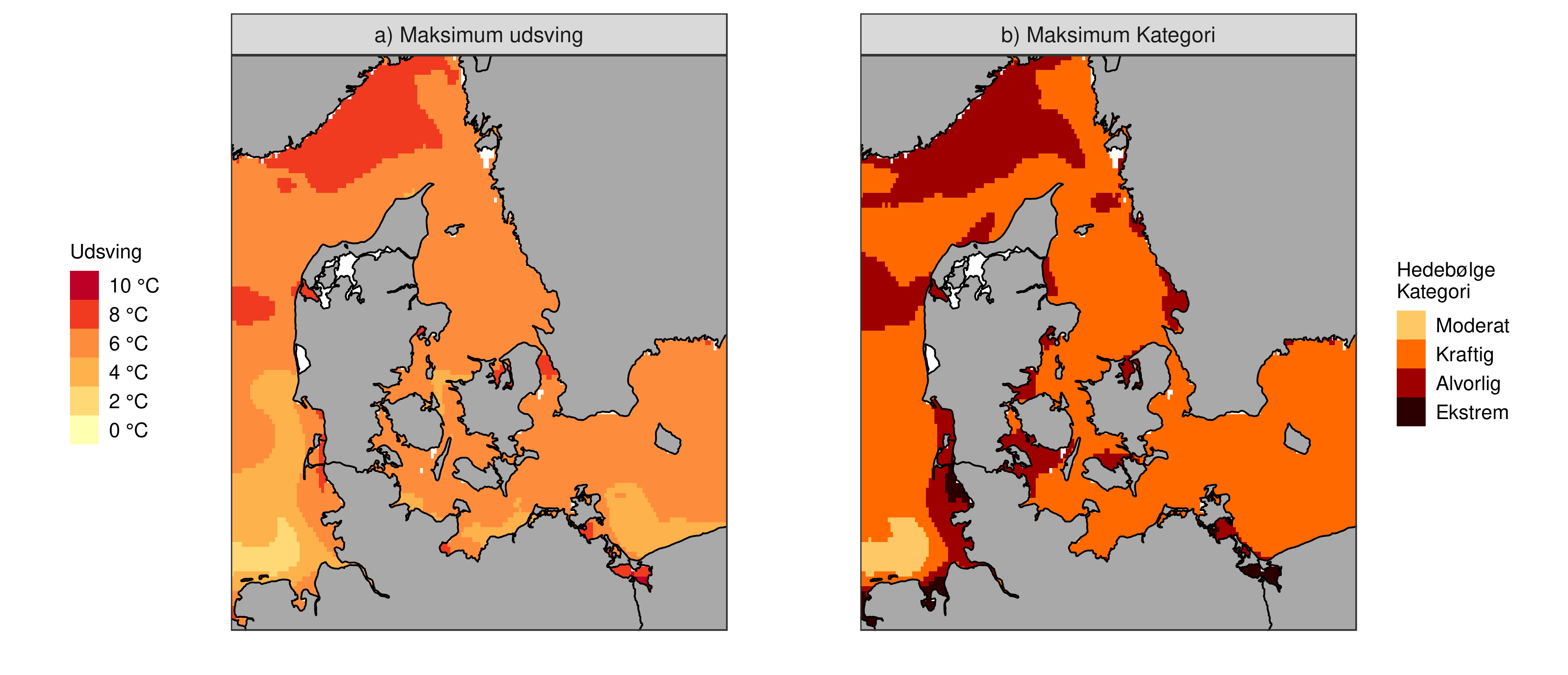 The calculations have been translated into graphics presented on the website fishforecasts.dtu.dk, and the figures also show that—in the past 12 months—there have been several periods in which there has been a marine heat wave in more than half of the Danish sea area.
"The calculations are the first step towards understanding the importance of marine heat waves to life in the sea around Denmark. The next step is to gather observations of odd or unusual things such as new species, changed behaviour, etc. from—for example—anglers and others. We would like to try to document the consequences of the high temperatures we're seeing in the sea", says Mark Payne.
He and several of his colleagues from DTU Aqua are conducting research into the impact of climate change on fish and other species of fauna and flora in the sea—both in Denmark and elsewhere in the world—which are also seeing heavy temperature increases.
"There are several examples of these high-intense heat waves around the world, especially in Australia and the Pacific. In these cases, they've had serious consequences for the ecosystem, with a high mortality rate among corals, seabirds, and seagrass, invasions by foreign species, and significant financial losses for fisheries and aquaculture. We would therefore really like to try to understand what these heat waves mean to Denmark, and what the future on a changing planet holds", says Mark Payne.
The calculations of marine heat waves in Danish waters can be seen at Fishforecasts.dtu.dk. They are updated approximately once a week. Please contact Mark Payne directly on mpay@aqua.dtu.dk if you observe unusual species or conditions in connection with this year's heat waves.
Source : Technical University of Denmark