Hearing aids is an area of rapid development. Today, approximately one in every six Danes has hearing problems and might benefit from using a hearing aid. The nation has a total of about 300,000 hearing aid users.
The trend is for hearing aids to become ever smaller while having to accommodate an increasing number of functions. Much like mobile phones, hearing aids are becoming small communication platforms that must be able to feature wireless control using a mobile phone, communication with the other ear's hearing aid and streaming of radio.
This presents challenges to hearing aid manufacturers, and the problem is exacerbated when the battery is replaced with a rechargeable Li-ion battery, which is not as simple as it sounds.
"We chose to collaborate with DTU on finding the optimum way to integrate lithium-ion batteries into hearing aids. There was a need for a systematic review of all potential technologies. This requires in-depth study and a theoretical understanding, which—based on our previous collaboration with the University—we know the DTU researchers master. Also, it may be difficult for us to accommodate tasks this large in the Development Department's schedule, which is full of projects with short deadlines," says Martin Vinter, CTO Architect at GN Hearing.
The collaboration between GN Hearing and DTU Electrical Engineering resulted in a three-year Industrial PhD position, which was filled by Dennis Øland Larsen. Over the three years, Dennis Øland Larsen has developed solutions for several of the challenges GN Hearing was facing.
New switch-mode power supply
The first task involved changing the voltage in the hearing aid. Rechargeable batteries typically feature a voltage of 3.6 V, whereas the electrical components in hearing aids—microphone, amplifier, radios, etc.—are usually designed for 1.2 V. It is therefore necessary to fit a converter into the hearing aid, a so-called switch-mode converter. However, the converter has the drawback of emitting electrical noise during use.
"Dennis succeeded in finding a solution to this problem. The converter becomes invisible, so to speak, to the rest of the electronics in the hearing aid by not generating unwanted electrical noise which is captured by e.g. the very sensitive microphone in the hearing aid, causing considerable inconvenience to the user. This is a completely novel type of solution to a problem which would normally be prevented using a guard or increased distance between the components. However, the small format of a hearing aid allows no room for this," says Martin Vinter.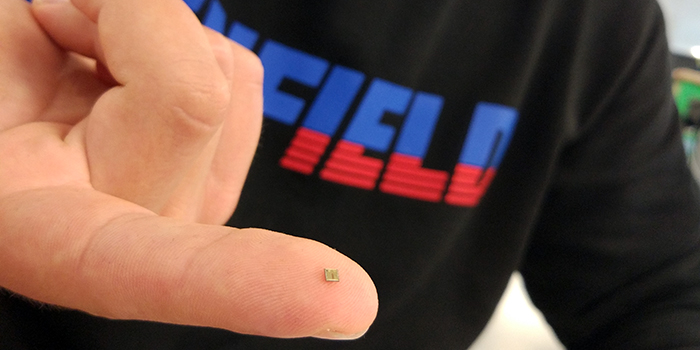 Synthesis tool with wide applicability
Dennis Øland Larsen acknowledges that the small converter 'trick' is of great importance to hearing aid users. However, he himself focuses more on another job he solved for GN Hearing. He developed a synthesis tool which, using math and algorithms, makes it possible to find the optimum combination of the on/off switches and power-maintaining capacitors that make up a switched capacitor converter.
"One example features eight billion different combinations. The tool makes it possible to choose exactly the combination that is best suited for the specific application, in this case a hearing aid. But the tool can also be used for other similar functions, for example in wireless headphones and in power supplies for tablets, laptops and data centres," says Dennis Øland Larsen.
In future, GN Hearing will use the method to ensure the optimum combination in the converter. This could result in as much as a few per cent increase in efficiency, which is quite significant when it comes to ensuring the best possible experience for the hearing aid user.